How Late Can a Period Be Before You Know You're Pregnant?
If you have a late or missed period, and are on the fence about thinking you may be pregnant, now is a good time to test to see if you are pregnant, or if something else is amiss. Contact Dr. Michelle Trandai OBGYN in Chicago, IL for comprehensive treatment. For more information, call us today or visit us online to book an appointment.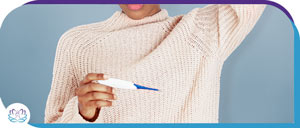 Table of Contents:
How many days late is your period if your pregnant?
How do I know if I'm pregnant or if my period is just late?
What are signs of a late period?
How long after a missed period will you test positive?
How many days late is your period if your pregnant?

If you have quite a regular period it may come as a surprise when your period ends up being late. While your first thought may be "Am I pregnant?", other causes can be the reason you have a missed period. Some causes may be just a shift in your ovulation schedule, or you could have been sick or stressed and caused the period to be later than normal. Other reasons can indicate a more serious underlying medical condition including a hormonal imbalance or thyroid disease. This is why it is a good idea to stay on top of your period's schedule.

The first reason your period may be late is due to being pregnant. If this is the case, congratulations! Many of the symptoms of being pregnant include bloating, spotting, cramps, fatigue, breast tenderness, and food aversions. These symptoms are quite similar to the ones you would experience before your menstruation, so it can be a confusing time and have you second-guessing yourself.

On average, a menstrual cycle lasts anywhere between 21 to 35 days, with the average being 28 days. It is best to wait around 1 to 2 weeks after your menstruation date would have arrived to test to see if you are indeed pregnant, or if your period is late.
How do I know if I'm pregnant or if my period is just late?

There could be other factors at play that could cause your period to be late other than being pregnant, including:

Stress
Stress can trigger many unpleasant side effects from acne to headaches, and weight gain, but it can also affect your menstrual cycle as well. Emotional stress will put pressure on the body which produces hormones like cortisol and adrenaline.

Illness
There are a few illnesses including the cold or flu which can have an impact on the body, particularly ovulation, and due to this, it will also affect your period.

Weight
Weight is a major contributor to affecting your menstrual cycle. Weight can affect the hypothalamus, which is the gland within the brain that is responsible for regulating the countless processes within the body.

Excessive exercise
While working out is great for your mental health and body, you can overdo it. If the body is unable to produce enough estrogen it can affect the menstrual cycle.

Change your schedule
Your internal body clock helps to regulate your hormones, if you change up your schedule, it can make a change in your menstrual periods too.

Breastfeeding
Breastfeeding can also contribute to no periods for a certain amount of time, this is due to the prolactin which is the hormone responsible for the production of breast milk can suppress ovulation, which means the period will also cease until production ramps up again.

Medication
A common cause for menstrual changes with your period is medication, the most common is birth control. Hormonal contraceptives often stop the body from ovulating, with no ovulation, your period will also cease.

Hormonal imbalance
Hormonal imbalance may include polycystic ovary syndrome which is a condition when the female sex hormones are not in balance and can cause cysts to appear on the ovaries which will prevent ovulation from regularly occurring.

Thyroid disorder
The thyroid is the gland that is responsible for the body's metabolism, if it isn't functioning properly, it will cause abnormal changes in your periods.

Perimenopause
On average, women usually begin menopause around the age of 51. It can take around 2 to 8 years before then for when a woman hits what is known as perimenopause. Perimenopause is a time when the body will gradually produce less estrogen, this is when experiences with your menstrual cycle begin to change, your periods could end up heavier or lighter, shorter or longer, hot flashes may occur as well as night sweats, sleeping issues, mood swings, and vaginal dryness.
Finally, the best way to know if your period is late due to being pregnant, or another reason is by taking a pregnancy test and speaking with your OBGYN. They can recommend certain tests necessary if you are not pregnant to help find out what is going on.
What are signs of a late period?

Common signs of a late period other than the fact that it is late include:

– Fatigue
– Spotting
– Breast soreness
– Headaches
– Missed period
– Nausea
– Frequent urination
How long after a missed period will you test positive?

Usually, you can test 1 week to 2 weeks after your missed period to see a positive result if you are pregnant. If it comes back negative, test again in a few days. If it comes back negative more than once over 2 weeks, contact your OBGYN for an appointment.

For more information, call us. We serve patients from Chicago IL, Evanston IL, Ravenswood IL, Uptown IL, Lake View IL, Lincoln Park IL, Buena Park IL, Bowmanville IL, Boystown IL, and Roscoe Village, IL.